Regular price
$285.000 COP
Regular price
Sale price
$285.000 COP
Unit price
per
Sale
Sold out
Paga en USD, EU, MXN con PayPal

Para hacer tus pago con PayPal en tu moneda local (Dólares USD, Euros € o Pesos Mexicanos MXN)
Meaning Angel Callers
Pearl and Turquoise Angel Caller Bracelet: Angel callers, also known as angel harmonizers, are charms that have a long history and are associated with protection, spiritual connection, and inner peace . Its origin dates back to the indigenous tribes of Mexico and Guatemala and transcends to Celtic culture, where angel callers were believed to be a link to the heavenly world.
Legend has it that thousands of years ago humans lived with our Guardian Angels , but for some reason, perhaps due to a lack of faith, they decided to go to Heaven. But before leaving, the Angels gave us some spherical pendants that sounded like bells when shaken and explained to us that when we felt in danger or simply sad, we should shake the spheres, that when we heard the bells, the Guardian Angel of each one would come to that call.
Today, angel callers are used as jewelry, pendants, or bell-shaped ornaments. They are considered special gifts for pregnant women , as it is believed that the calming sound of the angel caller can bring harmony and protection to the unborn baby.
Pearl Meaning
Pearl and Turquoise Bracelet with Angel Caller: Natural pearls are organic gems formed inside marine molluscs, such as oysters and mussels, as a result of a defensive reaction to a foreign body. These pearls are valued for their beauty and rarity.
Their meaning goes beyond their aesthetic aspect, since they are considered symbols of purity, innocence and wisdom . Additionally, natural pearls are believed to promote emotional calm and harmony, as well as a connection to femininity and lunar energy. Throughout history, pearls have been prized as treasures and have been associated with wealth, status, and elegance.
Natural pearls symbolize delicacy, innocence, humility and purity of feeling, it helps you see the difficulties that arise daily as opportunities to grow, allowing your actions to have the greatest positive impact on those around you.
Meaning of Turquoise
Pearl and Turquoise Bracelet with Angel Caller: Turquoise is a precious stone appreciated for its beauty and symbolic meaning. It represents protection, wisdom and communication. This stone is believed to strengthen the spirit and bring emotional balance. Turquoise is also associated with serenity and calm, helping to dispel stress and foster inner tranquility.
Additionally, it is said to promote mental clarity and creative expression. This precious stone has been valued throughout history by various cultures and is considered a good luck and prosperity charm. Wearing turquoise is believed to attract abundance and joy, and is used as a symbol of protection against negative energies.
Includes
Meaning of the Angel Callers
Pearl Meaning
Meaning of Turquoise
A 925 Sterling Silver Chain
Certificate of Purity (Silver Law 925)
Cleaning and Conservation Recommendations
Betty Anderson® Gift Packaging
Dimensions
Angel Caller Diameter 12 mm
Perimeter Bracelet Silver Law 925 max. 23cm (adjustable)
Turquoise 6MM
Pearl 6MM
Materials
925 sterling silver
natural pearl
Natural Turquoise
View full details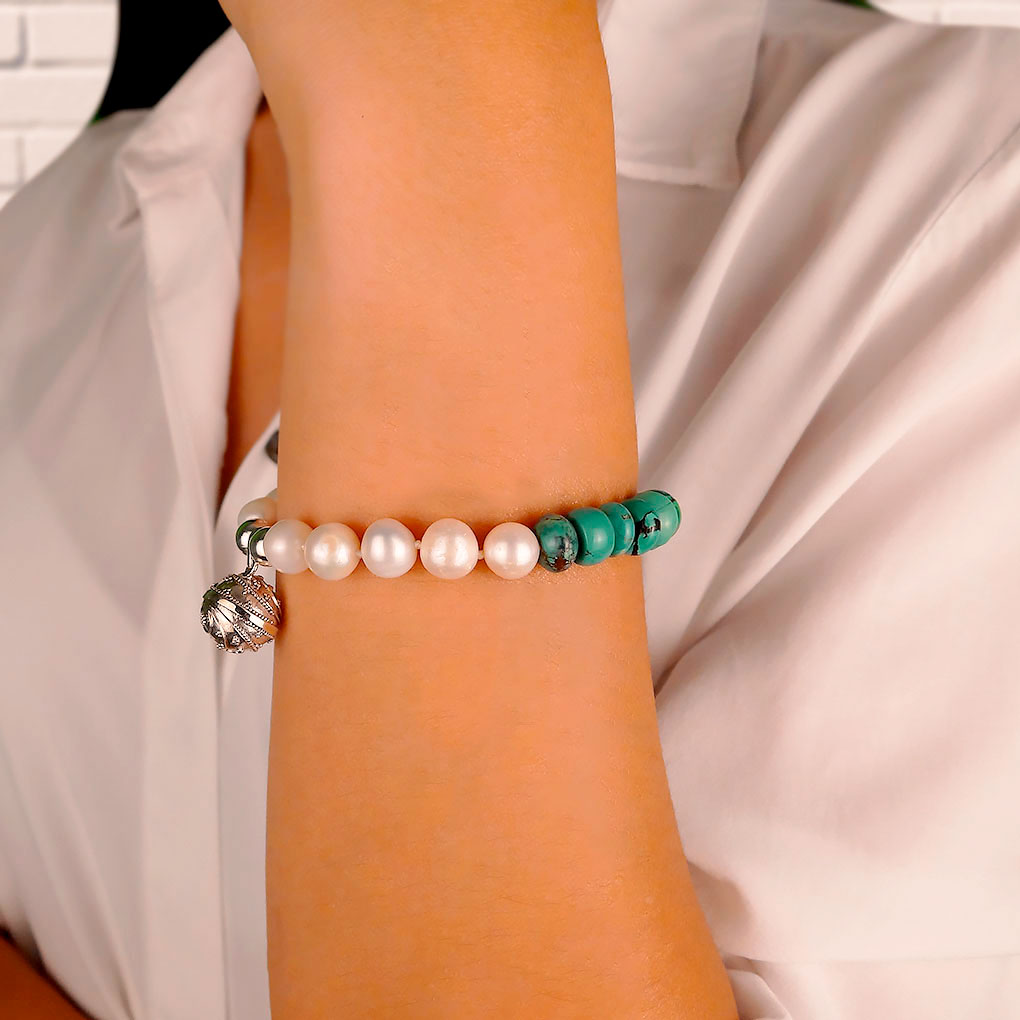 Payments | Returns | shipments
PAYMENTS

Pay fast and secure with Wompi - Bancolombia.

VISA, MASTERCARD, AMEX, PSE, NEQUI, BANCOLOMBIA

RETURNS & EXCHANGES

Request changes and returns within the first 30 days after receiving your purchase.

SHIPPING

Shipments by FedEx Colombia

Capital Cities 2 - 3 business days

Secondary Cities 2 - 5 working days
What inspires you the most