Regular price
$255.000 COP
Regular price
Sale price
$255.000 COP
Unit price
per
Sale
Sold out
Paga en USD, EU, MXN con PayPal

Para hacer tus pago con PayPal en tu moneda local (Dólares USD, Euros € o Pesos Mexicanos MXN)
Jade Meaning
Green Jade: Jade is a highly valued and appreciated semi-precious stone in many cultures around the world. For centuries, it has been considered a symbol of beauty, wisdom and serenity.
Jade is considered a symbol of good luck, fortune, and prosperity . It is believed to attract positive energies and protect against bad luck and negative influences. Additionally, jade is believed to promote harmony and inner peace, helping to calm the mind and spirit.
In some cultures, jade is associated with wisdom and longevity. The stone is said to strengthen the mind and stimulate clear thinking, allowing wise decisions to be made and a state of emotional balance to be achieved.
Green Jade: In terms of healing, jade is used to promote health and well-being. It is believed to strengthen the immune system, balance the body's energies, and stimulate cell regeneration.
Jade represents good luck, wisdom, serenity and love. In addition, healing and protective properties are attributed to it. Whether used in jewelry or as a healing stone, jade invites you to cultivate harmony, wisdom and generosity in daily life.
Tibetan OM bracelet
The OM symbol is a sacred and powerful representation in Indian spiritual traditions such as Hinduism and Buddhism. It consists of the combination of three Sanskrit letters: A, U and M, which merge into a single symbol.
The OM is considered the primordial sound of the universe, the sound from which all things emerge. It symbolizes the unity of the divine, the connection with the spiritual and the interconnection of all forms of life. It represents the creation, maintenance, and destruction of the universe, as well as the cycle of life, death, and reincarnation . It also symbolizes the balance between the body, mind and spirit.
Additionally, the OM is used in mantra practice and meditation . By reciting the sacred sound of OM, one seeks to achieve a state of inner peace, concentration and spiritual connection. Repeating the OM mantra is believed to help calm the mind, release stress, and raise spiritual awareness.
In short, the OM symbol is a powerful emblem that embodies unity, spirituality, and connection to the divine . Its meaning transcends cultural and religious barriers, resonating as a universal reminder of our essential nature and the interconnectedness of all things.
Includes
Certificate of Purity (Silver Law 925)
Cleaning and Conservation Recommendations
Meaning of OM Tibetan
Jade Meaning
Gift packaging BETTY ANDERSON
Dimensions
ADJUSTABLE Bracelet Perimeter
Natural stone 6mm
Materials
925 sterling silver
natural jade
View full details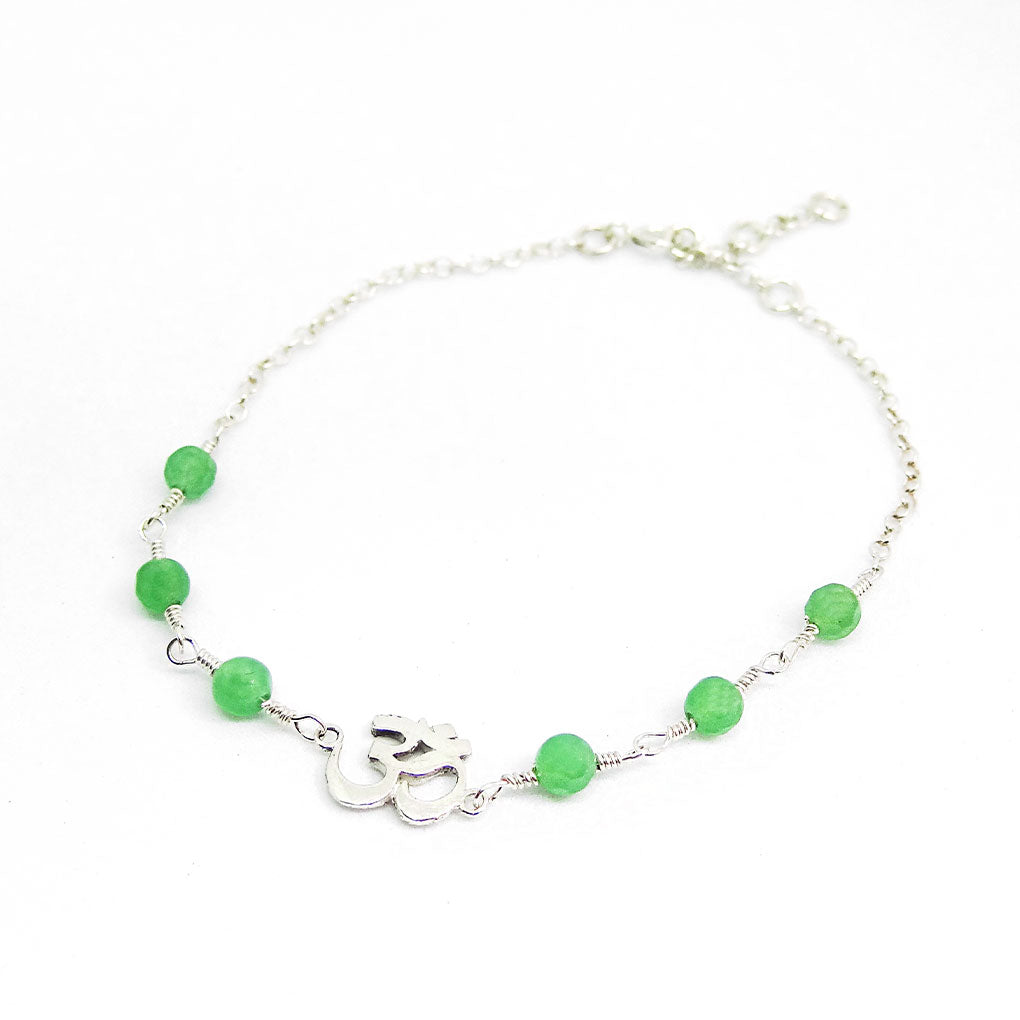 Payments | Returns | shipments
PAYMENTS

Pay fast and secure with Wompi - Bancolombia.

VISA, MASTERCARD, AMEX, PSE, NEQUI, BANCOLOMBIA

RETURNS & EXCHANGES

Request changes and returns within the first 30 days after receiving your purchase.

SHIPPING

Shipments by FedEx Colombia

Capital Cities 2 - 3 business days

Secondary Cities 2 - 5 working days
What inspires you the most