Regular price
$230.000 COP
Regular price
Sale price
$230.000 COP
Unit price
per
Sale
Sold out
Paga en USD, EU, MXN con PayPal

Para hacer tus pago con PayPal en tu moneda local (Dólares USD, Euros € o Pesos Mexicanos MXN)
Infinity symbol
Infinity bracelet: The infinity symbol has a deep spiritual meaning that transcends the physical and temporal limitations of our existence. In spirituality, the infinity symbol represents the eternal connection between all things and universal unity .
In this context, the infinity symbol symbolizes the idea that we are immortal spiritual beings, that our consciousness extends beyond earthly life, and that we are interconnected with the universe and all living things. It suggests that energy and love are infinite and that our souls are eternal.
Infinity bracelet: In addition, the infinity symbol reminds us of the importance of living in the present and of recognizing the beauty and significance of each moment. It invites us to expand our consciousness and transcend the limits of our mind and our ego.
In summary, the symbol of infinity in the spiritual realm invites us to recognize our true limitless and eternal nature, to connect with the universe and to experience the infinite unity and love that surrounds us.
Rose Quartz
Rose quartz is a gemstone known for its delicate, soft pink color. Various meanings and benefits related mainly to love, compassion and emotional healing are attributed to it. This stone is associated with the heart and is considered a symbol of unconditional love and harmony in relationships.
Rose quartz is believed to help heal emotional wounds , promoting self-acceptance and forgiveness both towards oneself and others. In addition, it is said that it promotes inner peace, confidence and kindness towards oneself and others. This stone is also used in self-care practice to balance and harmonize the heart chakra, promoting self-love and balanced relationships.
In addition to its connection to love, rose quartz is also believed to calm emotions, relieve stress, and promote feelings of peace and well-being . In short, rose quartz is a stone that symbolizes love, compassion, and emotional healing, and is used to promote harmony and balance in the heart and in relationships.
Includes
Cleaning and Conservation Recommendations
Meaning of the Infinity Symbol
Pink Quartz Meaning
Gift packaging BETTY ANDERSON
Dimensions
Perimeter Bracelet Max. 23cm ( adjustable)
4mm Natural Stone
View full details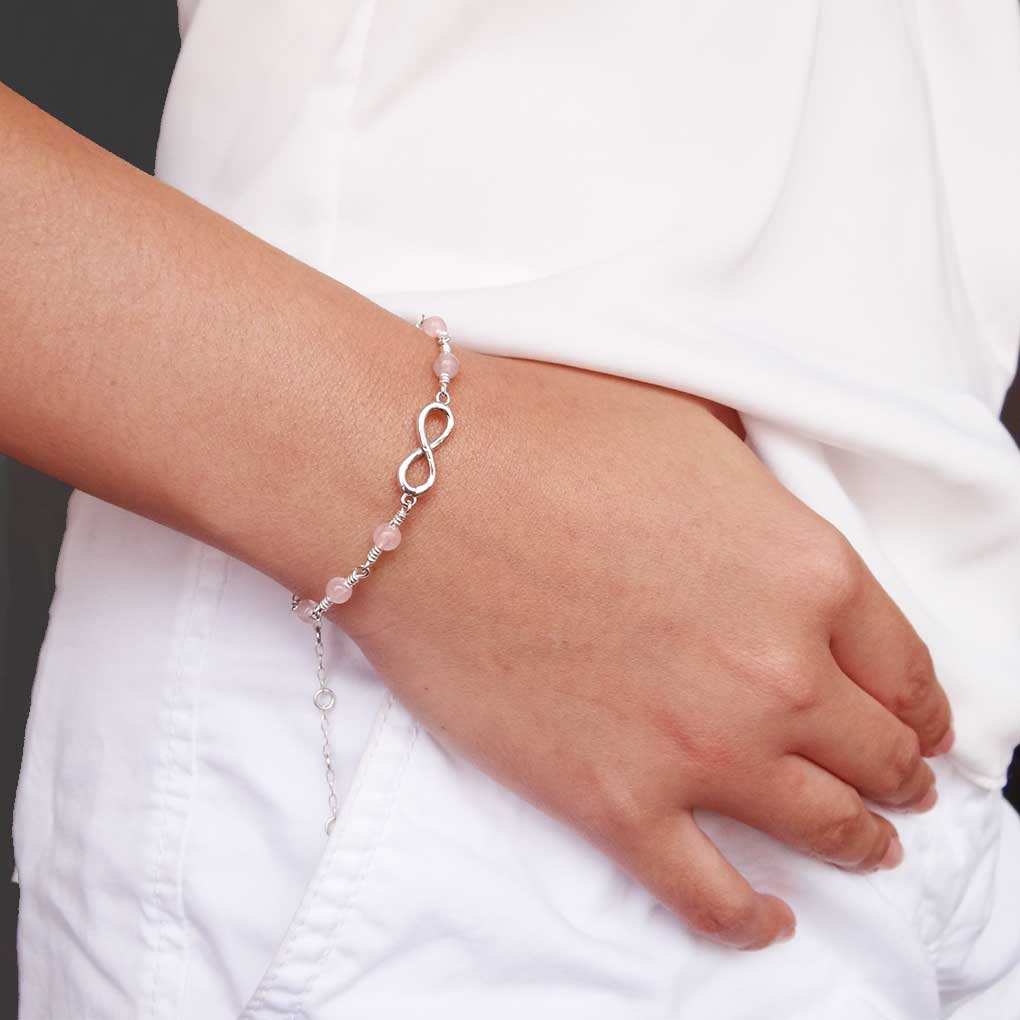 Payments | Returns | shipments
PAYMENTS

Pay fast and secure with Wompi - Bancolombia.

VISA, MASTERCARD, AMEX, PSE, NEQUI, BANCOLOMBIA

RETURNS & EXCHANGES

Request changes and returns within the first 30 days after receiving your purchase.

SHIPPING

Shipments by FedEx Colombia

Capital Cities 2 - 3 business days

Secondary Cities 2 - 5 working days
What inspires you the most